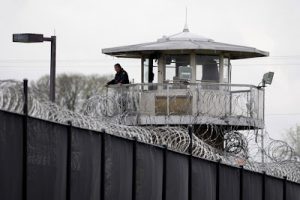 Prison in Allenwood, Pennsylvania
The United States Penitentiary, Allenwood is a maximum-security United States federal prison in Pennsylvania. It is part of the Allenwood Federal Correctional Complex and is operated by the Federal Bureau of Prisons, a division of the United States Department of Justice. A high security U.S. penitentiary. The following is a directory of information profiles of Federal Prisons in the state of Pennsylvania.
Pennsylvania Prisoner Petitions Cases
Nationwide Criminal Records Search
How do you find out why someone is in Jail or Prison?
You can contact the Clerk of the Court to get the transcripts of the case and the sentencing where they were adjudicated or USE SEARCH FORM below
takes 25-60 seconds
Find More Information about Almost Anyone
Prison in Pennsylvania | USP ALLENWOOD Inmate List
Find More Information About Almost Anyone
All visiting at this facility has been suspended until further notice.
RT 15,2 MILES N OF ALLENWOOD
ALLENWOOD, PA 17810
Email: ALX/execassistant@bop.gov
Phone: 570-547-0963
Fax: 570-547-9201
Inmate Gender: Male Offenders
Population:
807 Total Inmates
Judicial District: Middle Pennsylvania
County: UNION
Notable inmates

Howard Mason
24651-053 Convicted in 1989 of racketeering charges in connection with his leadership of "The Bebos," a violent drug gang in Queens, New York; ordered the 1988 murder of New York City Police Officer Edward Byrne
Louis Daidone
39065-053 Former Acting Boss of the Lucchese Crime Family in New York City; convicted in 2004 of murder, murder conspiracy, racketeering, and loansharking